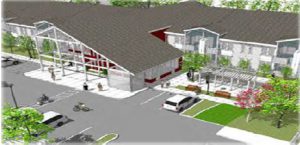 The Housing Authority of the County of Santa Cruz has opened a new site based waiting list for Project Based Voucher (PBV) assistance at the St. Stephens Senior Housing located at 2510 Soquel Avenue in Santa Cruz. St. Stephens Senior Housing is currently being developed by MidPen Housing for occupancy by low-income seniors at least 62 años de edad. Habrá un total de 39 unidades basadas en proyectos en St. Stephens. Cinco unidades se designan para los veteranos sin hogar antes que participan en el programa de HUD-VASH, como se indica por la Administración de Veteranos. Cinco unidades son designados para el Programa de Servicios mayores multipropósito (MSSP) las personas elegibles que se hace referencia por el Centro de Proyectos de Salud. Esta nueva lista de espera basada sitio es para los restantes 29 unidades.
En la mayoría de las formas, el programa PBV funciona igual que el vale de elección de vivienda regular (Section 8) programa, con los hogares que pagan más o menos un tercio de sus ingresos en la vivienda, y la Autoridad de Vivienda de pagar el resto de la renta directamente al propietario en nombre del inquilino. However, existen algunas diferencias clave entre los programas. Por ejemplo, en el programa PBV, la asistencia está vinculada a la unidad, no el hogar. Por lo tanto, you must reside in St. Stephens Senior Housing for at least one year before potentially being eligible to transfer your assistance to another unit.
Pre-applications for the St. Stephens waiting list will be available beginning February 21st, 2017.
If you or your spouse are age 62 o mayor, and you are interested in residing at St. Stephens Senior Housing, you may complete a St. Stephens pre-application. Pre-application forms will be available beginning February 21, 2017:
by downloading

from our lobby during office hours Monday – Thursday

8:00

am –

5:00 pm

by calling

(831) 454-5950

from Santa Cruz Veterans Resource Center

, 1658

Soquel Drive

,

Suite H

, Santa Cruz,

Monday – Friday

8:30

am –

5:00 pm.
To be added to the St. Stephens waiting list, return a complete pre-application to the Housing Authority between Feb 21 y 5 marzo pm 10, 2017. La Autoridad de Vivienda del Condado de Santa Cruz ofrece igualdad de oportunidades a todos los candidatos para participar en programas de la Autoridad de Vivienda, y es un empleador de igualdad de oportunidades. La Autoridad de Vivienda no discrimina por motivos de raza, ascendencia, color, religión, estado civil, sexo, la orientación sexual, origen nacional, afiliación política, años, ciudadanía, discapacidad o estado familiar.
For information on availability of units and eligibility criteria call MidPen Housing at 855-278-7669 (follow prompts for St Stephens).
If you have any other questions, por favor comuníquese con nuestra Línea de Información de Lista de Espera al 831-454-5950.