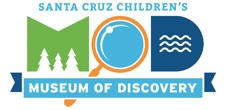 Santa Cruz Children's Museum of Discovery (SCCMOD) offers families with Section 8 Vouchers or in Public Housing an annual $5 membership to interactive learning at this children's museum inside the Capitola Mall.
Due to the generosity of a local family foundation, el Fondo de Becas Lee Schulte, el SCCMOD puede ofrecer una membresía de un año completo bajo su Programa de Acceso Familiar a familias que califiquen por solo $5 por año.
Las familias solo necesitan completar una solicitud simple que está disponible en el sitio web de SCCMOD www.sccmod.org, mostrar papeleo de que reciben algún tipo de ayuda pública y pagan sus $5 parte del costo de la membresía y recibirán una membresía.
Formulario de membresía Family Access en INGLÉS
Formulario de membresía Family Access en ESPAÑOL
Para más información, póngase en contacto con SCCMOD en (888) 424-8035 o envíe un correo electrónico a Gina a [email protected]
Abierto diariamente. Cerrado: Pascua de Resurrección, Cuatro de Julio, Acción de gracias, Nochebuena, día de Navidad, Día de Año Nuevo. Ubicado cerca del Food Court en el centro comercial.