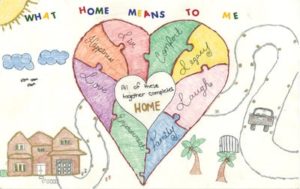 La Autoridad de Vivienda del Condado de Santa Cruz invita a todos los niños y jóvenes (Kinder hasta 12º grado) que residen en la vivienda asistida para crear un cartel en el hogar lo que significa para ellos. We will award three winners, uno para cada grupo de edad escolar, with a $50 tarjeta de regalo para las fuentes del arte y de la escuela, una membresía anual de la familia, el museo Santa Cruz de Arte e Historia (MAH), y una copia enmarcada de su cartel. También vamos a enmarcar una copia de los carteles ganadores para colgar en nuestro vestíbulo de la oficina, y presentar las copias originales en un concurso nacional! Twelve national winners will receive a $100 Visa gift card, and the grand prize winner will be awarded an iPad, and a trip with a family member to Washington, Distrito de Columbia. where he or she will be honored at a national conference and receive a tour of Capitol Hill.
School-Age Groups:
Elementary – K to 5º grado;
Middle – 6º – 8º grado;
High – 9º – 12º grado
Theme

– "¿Qué significa el hogar para mí?"

Size – All posters must be 22" x 28" flat enough to mail

Media –

Contestants may use any art media

(marcador, lápiz de color,

paint

,

collage

,

textiles

, etcétera),

but please consider that posters will need to be packaged

,

mailed and reproduced

Provide a short written description on "What Home Means to Me." Sign the

permission/release form

.
Questions? Please call Kate at (831)454-9455.
Due Date: January 17, 2019
* * * * * * * * * * * * * * * * * * * * * * * * * * * * * * * * * * * * * * * * * * * * * *
Concurso de Arte

: "

Que significa para mí el hogar

"

La Autoridad de Viviendas del Condado de Santa Cruz invita a todos los niños y jóvenes (grado Kindergarten a 12 grado) que residen en viviendas subsidiadas a crear un póster sobre qué significa para mi el hogar. Tendremos tres ganadores, uno por cada grupo de edad escolar, con una tarjeta de regalo de $50 para artículos de arte y escolares, una membresía anual al Museo de Arte e Historia de Santa Cruz (MAH) para la familia, y una copia enmarcada de su póster. Tambien enmarcaremos una copia de los posters ganadores y los colgaremos en nuestra oficina y enviaremos las copias originales a un concurso nacional! Doce ganadores nacionales recibiran una tarjeta de regalo Visa de $100, y el ganador del premio mayor recibirá un iPad y un viaje con un miembro de la familia a Washington D.C., donde el o ella será honrado/a en una conferencia nacional y recibirán un recorrido por el Capitolio.

Grupos de edad escolar: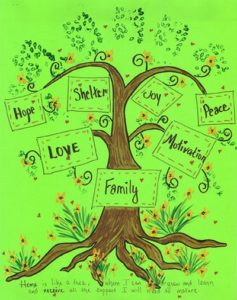 Primaria: de K a 5º grado
Intermedia: de 6º a 8º grado;
Secundaria: de 9º a 12º grado.
Tema

– "

Qué significa para mí el hogar

"

Tamaño

–

todos los pósters deben medir 22

×28

pulgadas

,

planos suficientemente para enviar por correo

Medios

–

el concursante puede usar cualquier medio astístico

(

marcadores

,

crayolas

,

pintura

,

collage

,

textiles

, etcétera)

pero por favor consideren que los pósters tienen que ser empaquetados

,

enviados por correo y reproducidos

.

Proporcione una breve descripción escrita de

"

Qué significa para mi el hogar

".

Firme el

formulario de permiso/autorización
Preguntas? Por favor llame a Kate al (831) 454-9455
Fecha para entregar el Póster: antes del 17 de enero de el 2019